I'm excited to announce TurboScribe.
TurboScribe is the world's first unlimited and affordable AI transcription service.
Welcome to Unlimited
High-quality, high-accuracy AI transcription (with human levels of quality) is expensive. It requires costly hardware (high-powered GPUs like Nivida's A100, carrying a price tag of $10,000), which is why automated transcription services impose strict and aggressive caps on their customers.
But what if we just make transcription cheaper and more efficient without compromising accuracy? That's what TurboScribe is all about.
TurboScribe offers unlimited transcription for $10/month.
Your usage isn't metered and you're never asked to upgrade plans when you transcribe more.
In other words, it's unlimited.
Unlimited?
Yes.
Really?
Yes, really.
How unlimited?
Let's put it this way: It's so unlimited that you can use TurboScribe to transcribe every minute of your life. All 43,200 minutes of it every month (that's 60 minutes per hour x 24 hours a day x 30 days a month).
You can record and transcribe all your class lectures.
You can transcribe every voice memo, patient session, deposition, interview, or podcast laying around on your phone or computer.
You can transcribe that 30-hour World War 2 lecture series.
Our most active users transcribe over a thousand hours of audio and video every month. At $1 per hour of audio, that would cost over $1,000 per month on other services.
With TurboScribe, it's just $10 (yes, really).
Mind blown yet?
And you get timestamps, speaker identification, and exports to common file formats like PDF, DOCX, VTT, SRT, JSON, CSV, and TXT.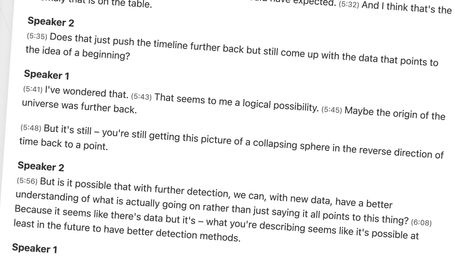 Did I mention you can upload files up to 5GB in size and up to 10 hours long? And you can upload up to 50 files at a time.
Oh, and you can do it all with the most powerful open transcription model in the world, Whisper.
Whisper
Let's talk about Whisper.
Put simply, Whisper is the most accurate, open transcription AI in the world. Whisper was developed by OpenAI (the creators of ChatGPT) and the first version was released in September 2022.
Some quick facts about Whisper:
In other words, Whisper is world-class transcription quality. In practice, it's over 99% accurate on the world's most common languages. It often exceeds human levels of accuracy and handles accents, poor audio quality, and background noise.
Oh, and it can translate audio from other languages into English too.
$10 for unlimited transcription? How is this possible?
That's probably the #1 question I get. How are you able to offer unlimited transcription for only $10 a month? Is there a catch?
There's no catch. TurboScribe Unlimited really is unlimited for one person (the only rule is that you can't share your login/account with others). We don't cap your overall usage. You really can transcribe thousands of hours of audio and video every month.
How do we sustainably offer an unlimited service like this? In short, every step of the transcription process (from file uploads to audio/video processing to our GPU-powered transcription engine) has been optimized to make our business model sustainable and deliver a great product at a fantastic price.
And — just between you and me 😉 — many other automated transcription services are over-charging.
Try TurboScribe
The best way to experience TurboScribe is to try it.
Start for free to transcribe up to 4 audio or video files every day (up to 30 minutes each or 2 hours total).